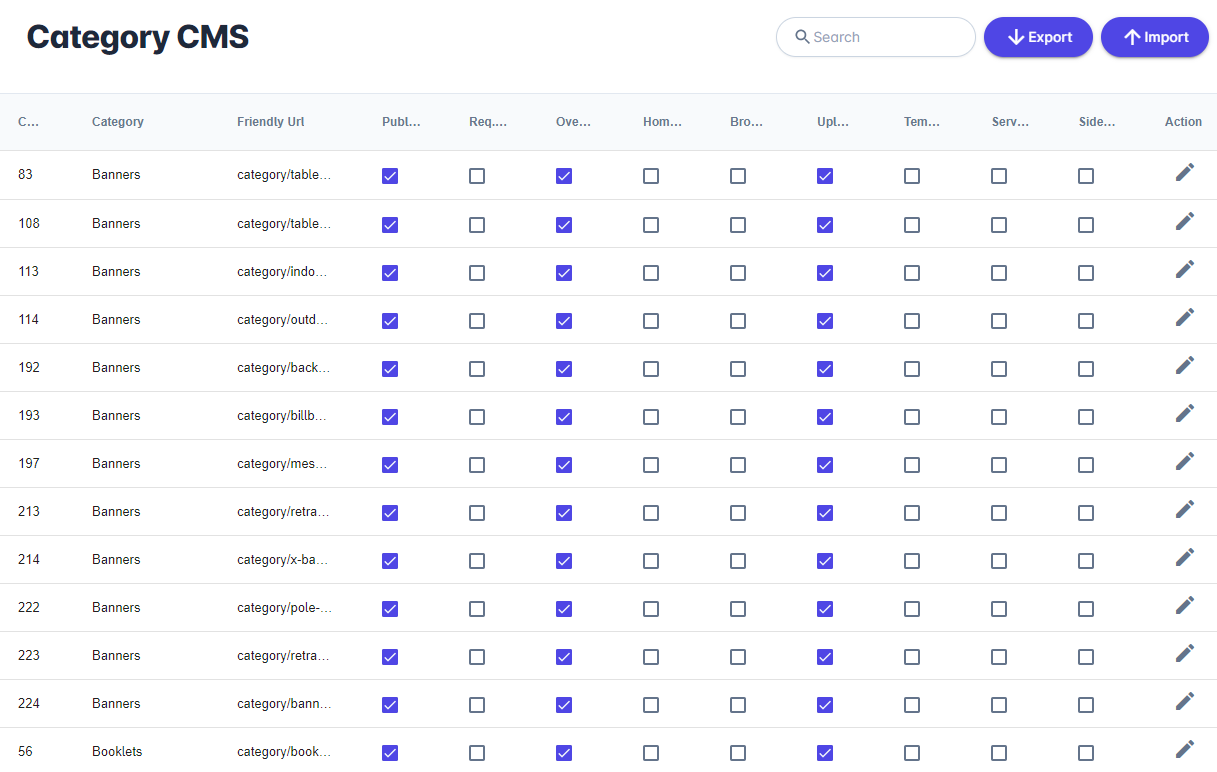 The Category CMS allows you to add and control content to product category pages. From your Unified admin, go to Print Store>Category CMS. To edit an existing category page click Actions Icon.
Category Details

Published: Publish page or hide from view.
Req. Login: When enabled, requires login
Show Overview: When enabled, shows calculator and enabled buttons. When disabled, shows product browser with all products enabled under that category.
Show on Homepage: Show or hide category on Home page.
Browse Designs: Allow user the choice to browse products. Redirected to the product browser.
Custom Upload: Allow user the choice to upload print-ready files. Redirected to the custom upload page.
Inline Template: Allow user the choice to request design services.
Design Service: Redirects the user to a specific template mapped to the size selection in the calculator.
Sidebar: Show or hide Sidebar.
Layout: Choose from the dropdown menu

Page SEO

Title: Page title
Keywords: Strong keywords will help your page perform well with SEO
Description: Page description
Friendly URL: A URL that is both readable to users and search engines.

Design & Code Editors

PrintNow offers rich HTML editing software for fast development with developer and user experience in mind. Our products are the building blocks for creating and editing beautiful content easier and faster. Learn More.

Page Tabs

Add tabs using the '+ Add Tabs' button in the right corner - You can use these built in Tab controls or add your own using the WYSIWYG Editor.