Consistent Customer Service: the Ticketing System
PrintNow's ticketing system acts as a shared inbox for all customers' questions and concerns. This way the support agent is always provided with a consistent ticket, making ticket management much easier for the agent to help our customers more quickly solve the issue to their satisfaction.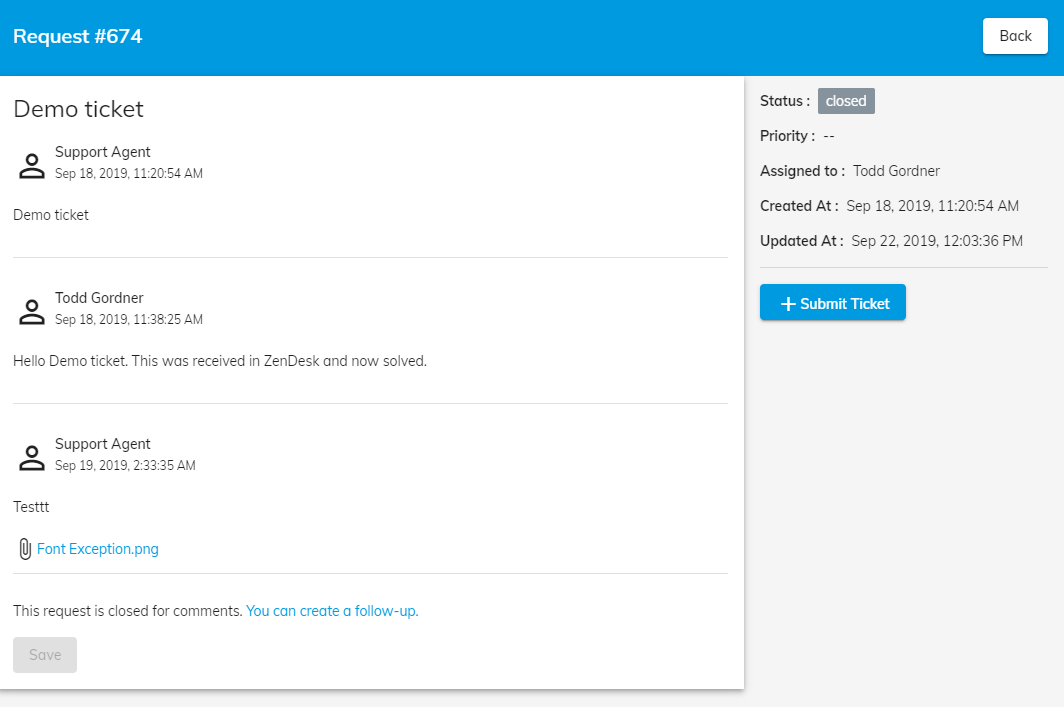 Support Portal
Access your support portal to track all support requests in your company and submit new requests.
From your Unified admin, go to Account>Support Tickets
Click "+Submit Ticket" to create a new support request.
You can filter your support requests by Status or requests your CC's on.
To reply to an existing request click the subject link on the ticket shown to open thread.
Email PrintNow Support
You can also email PrintNow without accessing the support portal.
Using your favorite email client email support@printnow.com
Tips for submitting a support request
While no one really wants to contact customer support, eventually it happens to all of us. Maybe it's your file crashing and giving you an error when trying to reopen it or perhaps a certain button isn't working the way that it should, preventing you from getting those great ideas in your head onto the screen in front of you. When these types of problems arise and you don't know who to turn to, PrintNow's Technical Support Team is here to help you get back on track. From software not working correctly to products not uploading, we've seen just about everything and are here to help.
Below you'll find a few quick tips for submitting technical support tickets that will help us help you cross the finish line and get your book in print.
1. Explore our Help Center
The best first step when troubleshooting issues is to check out our Help Center. We've recently revamped the Help Center at printnow.com, which includes a number of articles about all of our creation tools and products. There's a good chance that there may already be a topic written up about the information you are seeking, allowing you to resolve your issue in record time without even having to send in a support request. If you don't see anything that answers your specific question then it's probably time to contact us directly.
2. Details, details, details!
When contacting our support team, the more details you can provide about the issue you're having the better suited we will be to help you get back up and building products. If you're getting a specific error message, be sure to include it in your support ticket. If a specific function within the software is going haywire, try to describe it in as much detail as possible and include the steps you are taking when this is happening. It's easy to gloss over small details like the software you are using or the operating system you are on but these details are often vital in troubleshooting support issues. Our technical support agents will use this information to try to recreate the issue firsthand to determine what may be causing the trouble and how to address it.
3. A picture can be worth a thousand words
While a detailed email is incredibly helpful for troubleshooting technical support issues, oftentimes
a screenshot is even more helpful. One of the first things we do when troubleshooting issues is to try and recreate the behavior. By including a screenshot of the issue you are seeing, our technical support agents will be able to look for the same things.
For OSX users it's as simple as pressing Command+Shift+3 to take a screenshot of your whole desktop or Command+Shift+4 if you want to specify a particular part of your screen to capture.
For Windows users there are a variety of ways to take a screenshot based on the specific version you are using, but we've found the following works for just about all versions:
a. Press the Print Screen (PrtScn) at the far top right of your keyboard.
b. Open Paint (Start/ All Programs / Accessories)
c. Paste (Ctrl + V)
d. Save the file as a jpeg
So the next time you run into a technical snafu using PrintNow, be sure take to give our Help Center a search to see if we already have an article that can help out. If you can't find the right information and need to drop us a line, be sure that when contacting us you provide as much detail as possible or steps to reproduce and remember that screenshots can often be incredibly helpful for us when troubleshooting. We're here to help!