Designed by a printer as an alternative to purchasing independent modules (or custom development) of Print Estimating, Workflow Automation, Print MIS,Shipping and Mail Preparation Software, PressWise provides a single, SaaS-based print workflow system, with the comprehensive tools needed to streamline your operation and grow your business.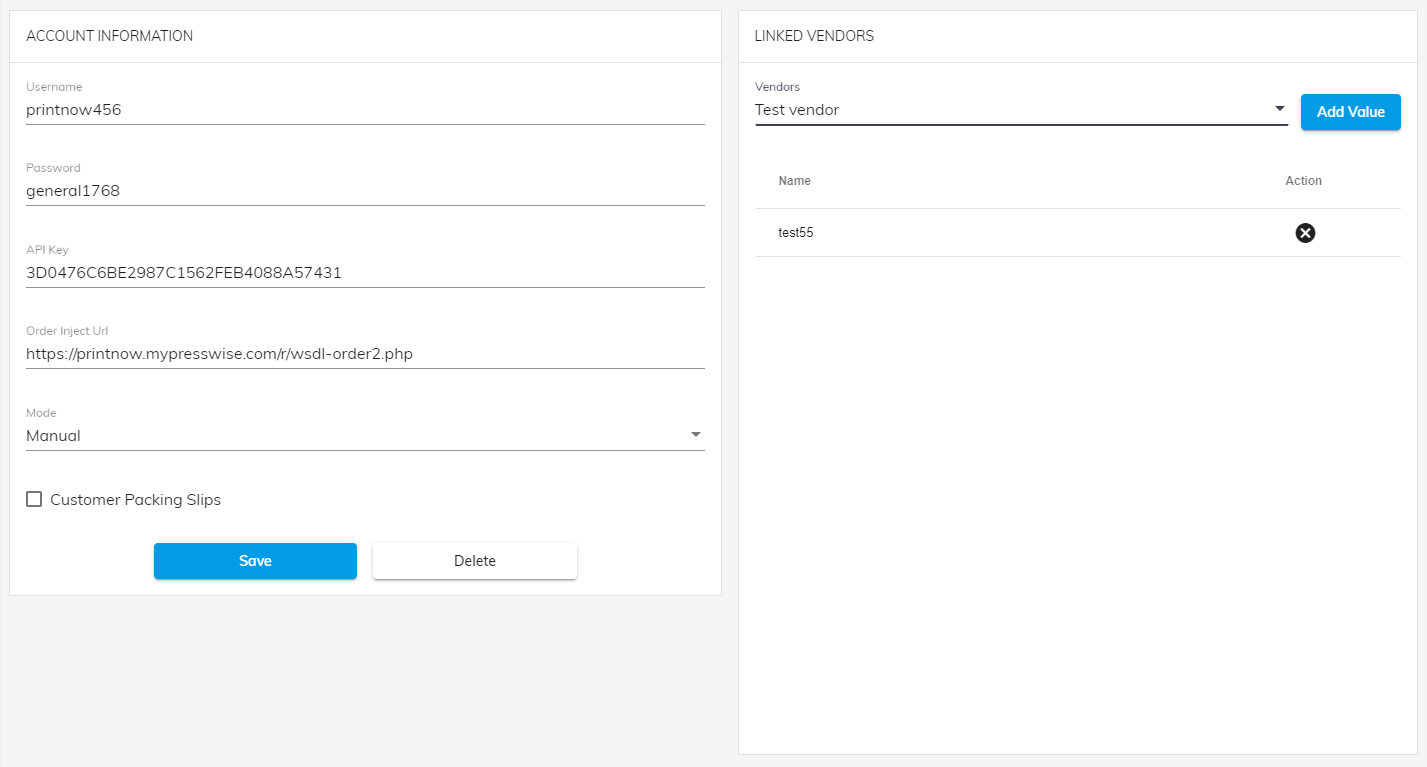 Activate Partner Integration
From your Unified admin, go to Partner Apps>PressWise.
Click Setup Presswise Account button.
Username:

Username provided by PressWise.

API Key: API Key provided by PressWise.
Order Inject Url: Order Inject Url provided by PressWise.
Mode:

Automatic: Setting the mode to automatic will immediately pass all orders into PressWise at time of order.
Manual: Setting the mode to manual will require a PrintNow admin to click "Send To Presswise" button after review of each order received in PrintNow.

PAF ID: the Processing Acknowledgement form is required by the USPS
Customer Packing Slips:

When enabled users on the PrintNow front-end Print Store will have the ability to attach packing slips before placing orders.

Vendors:

Linking vendors allows PrintNow admin users to assign products in PrintNow to a vendor used in PressWise. One vendor is required for orders to be passed to PressWise and It's optional to link Outsource Vendor id supplied in PressWise to pass "

outsourceVendorID

" to PressWise.
Assign Vendor to product
From your Unified admin, go to Products/Settings/PressWise.
Edit chosen product.
Assign linked Vendor to PressWise account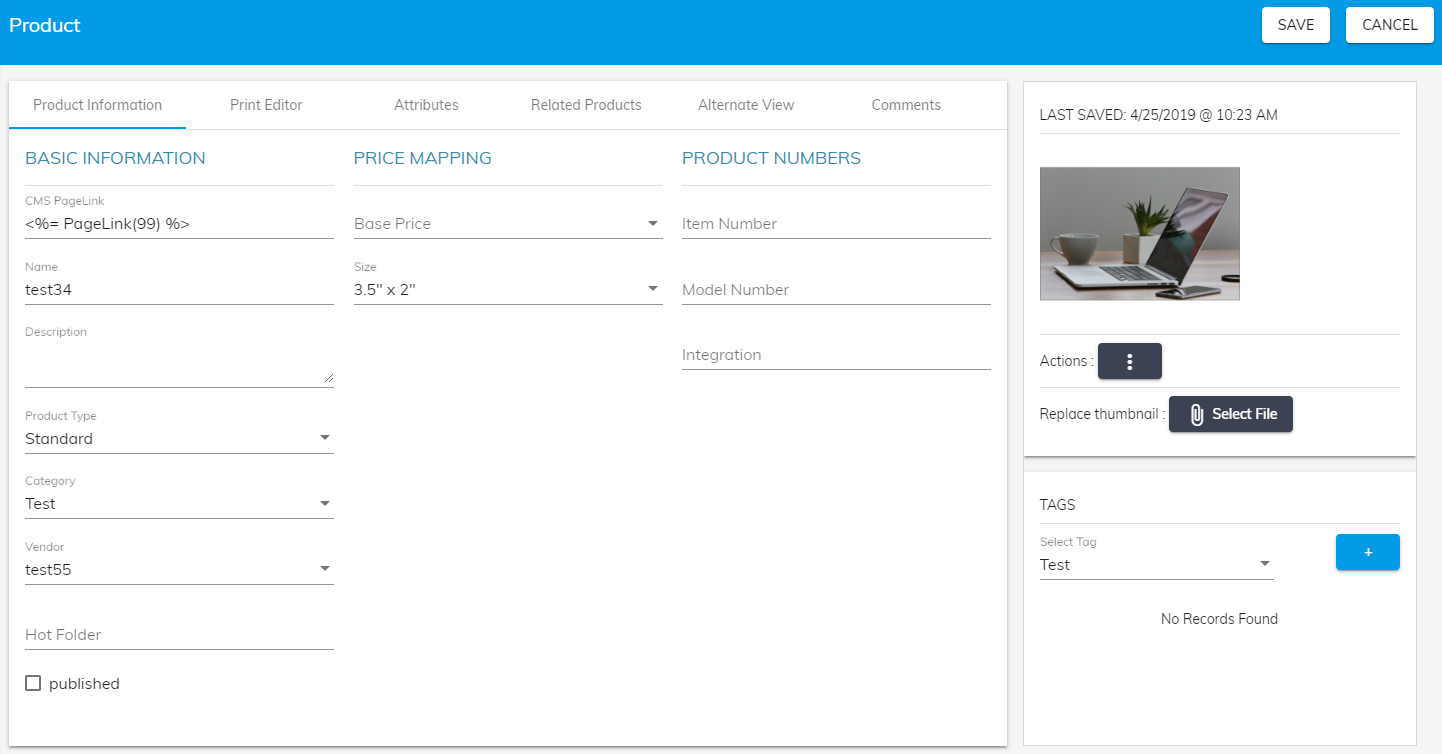 PrintNow data mapped to PressWise data
add_purchase_order/
/customerID - customer id
/customerPO - customer po number (if supplied)
/sourceOrderID - order id
/btFirst - billing first name
/btLast - billing last name
/btNameCompany - billing company name
/btStreet - billing street address 1
/btAddress2 - billing street address 2
/btAddress3 - billing street address 3
/btCity - billing city
/btState - billing state
/btZip - billing post code
/btCountry - billing country
/btPhone - billing phone number
/stFirst - shipping first name
/stLast - shipping last name
/stNameCompany - shipping company name
/stStreet - shipping street address 1
/stAddress2 - shipping street address 2
/stAddress3 - shipping street address 3
/stCity - shipping city
/stState - shipping state
/stZip - shipping post code
/stCountry - shipping country
/stPhone - shipping phone number
/avsResidential - residential shipping flag ("Y" or "")
/subTotal - order sub total
/taxCost - order tax amount
/shipCost - order shipping amount
/totalCost - order grand total
/isTaxable - "Y"
/shipMethod - order shipping method
/btTerms - payment method ("Credit Card", "Check", "COD", "Purchase Order", "Invoice",
"PayPal")
/estShipWeight - calculated order weight
/shipCostFlag - "fixed"
/salesDate - order date
/holdReleaseTo - "AUTO New"


/item* - repeats for each item in order

/sourceJobID - item id
/outsourceVendorID - Vendor id
/quantity - item quantity
/productID - product integration id entered at the product level will be passed or PrintNow product id will be used by default if integration is left blank.
/productType - "Printed"
/productDesc - product name
/price - item price
/inksF - front number of inks entered in base pricing will be passed (Colors)
/inksB - back number of inks entered in base pricing will be passed (Colors)
/deviceID - "device" integration id parameter on color, size, or order option item
sent only if supplied presswise.device:value_here
/paperID - "paperid" integration id parameter on color, size, or order option item
sent only if supplied presswise.paperid:value_here
/finishing - repeats for each finishing option supplied; sent only if supplied
presswise.device_here:methodID_here (without option ID)
presswise.device_here:methodID_here:optionID_here (with option ID)
/device - pulled from order option item integration id
/methodID - pulled from order option item integration id
/OptionID - pulled from order option item integration id
Example: presswise.Folding:FD:Half Fold
<device>Folding</device>
<methodID>FD</methodID>
<optionID>Half Fold</optionID>

*mailer - only sent if ptype is supplied
/pType - "ptype" integration id parameter on color, size, or order option item; sent
only if supplied
presswise.pType:Flat
presswise.pType:Letter
presswise.pType:Card
/runW - width of product including bleed
/runH - height of product including bleed
/finishW - width of product not including bleed
/finishH - height of product not including bleed
/fileF - url to front pdf
/fileB - url to back pdf (if necessary)
/files - only sent if data list selected for item
url - url to data list csv
Attr
list - "load"
/isMailer - "Y"; only sent if data list selected for item
/customerApproval - "accepted"
/note - list of all options for item
/item - sent only if packing slip provided
/quantity - 1
/productID - "---------"
/productDesc - "Packing Slip"
/price - 0
/note - "Packing Slip"
/fileF - url to packing slip pdf