Use Adobe Indesign to export IDML Templates for import into PrintNow.
Layers
Organize your layers the way you want to approach design workflow. PrintNow does not read layers on import, every unique text or image item actually becomes a unique layer in PrintNow so layer management is more of a design workflow decision. You can lock and change visibility of layer items as shown and that will carry over when IDML gets imported into PrintNow at a later step.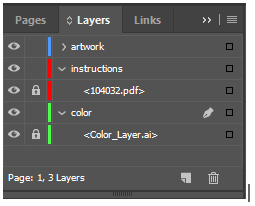 Images
Adobe Indesign created graphic elements are not read on import so PrintNow requires all graphic items to be placed within Indeisgn and embedded in the link pallet prior to exporting to IDML. We support other image formats like .AI, .TIF, .EPS but the following are the most popular and recommend: .PDF, .PSD, .JPG, .PNG, and .SVG. Indesign does not embed SVG file types by default so it's recommended to used another supported file type or manually replaced the .svg graphic after the .idml file was uploaded in PrintNow to get vector data into PrintNow that can be colorized.
Text
You can define text types like Non Wrap, Wrap, Scale to Fit after import as well as define standard rules for Font style, font size, Bold, Italic, Underline, Font Color, Alignment, Opacity, Leading, Tracking, Dropshadow, & Font Outline.
PrintNow supports the ability to change color, bold, and italic, on the same line but font size and font style can't be changed within the same line within a single text placeholder. If multiple styles and sizes are used within one text placeholder on an Indesign template PrintNow will use the first style on import.
Font Assets
Collect the fonts you use in your templates and upload them to PrintNow as TrueType fonts before uploading your IDML files. Otherwise the fonts will not be mapped and will default to your default font. If you don't have TrueType fonts you will need to use a font converter so you are using the same fonts on your desktop as you will be using online. FontLab Studio and TransType are both font utilities we recommend for font management. It is also recommended to test all fonts both in the Print Editor and on final output.
Tags
Tags are native to Indesign and can be used to name text and image elements in PrintNow. By default PrintNow will auto name elements on import but tagging your elements will help admins identify with the items in PrintNow. You assign a tag to an item by selecting the item and then selecting the corresponding tag. You can check that your items are tagged by selecting the item and seeing it highlighted in the tag pallet.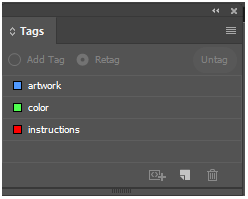 Exporting IDML
When your file setup is complete the final step is to export the .IDML file. For PrintNow to be able to upload your images you first need to embed them in the links pallet. Simply select all links, right click and click "Embed Link".



Next navigate to File in the menu, click Export and select .idml format and save.
Importing IDML
See Products for more information on how to import IDML on a new or existing product.
Related topics
Adobe IDML Templates
Products
{{mustache}} logic
Rules Engine
Autofill Profiles