Knowing how orders work in PrintNow is an essential element of running your business. After a customer places an order, it appears in the Orders area of PrintNow. Files can be downloaded in PrintNow or via FTP. PrintNow supports various methods for order integration (XML, Zapier, API).
View Orders
From your Unified admin, go to Print Store>Orders.
The Active, Archived, Deleted tabs will list orders and you can select any row and assign them to any of those 3 tabs. The tabs will update order totals on active tab.
To search orders click Toggle Search Panel. Search by Start & End Date, Status, Sales Rep, Search term (Order#, Storefront, BillTo, ShipTo)
To view quick order details click arrow on first column next to Order# to expand row. Customer Information, Ordered Items, Order Information will be listed.
To sort columns click on header row. Order#, Storefront, BillTo, ShipTo, Order Date, Total, Status.
To Archive or Delete an order, click on the order to highlight it and then click either the archive or delete buttons in the top right corner next to the Toggle Search Panel.
Orders are configured with lazy load for fast load times so page will scroll continuously until getting to the end. It is recommended to archive your orders time to time.

View/Edit Details
From your PrintNow admin, go to All Orders.
Click Actions Icon, and View/Edit.
General

Created On: Posted date and time the order was generated.
Order Status: Displays the current order status.
Order #: Displays the order number generated by PrintNow.
Storefront: Displays the Storefront the order was generated from.

Customer Info

Company: Displays the company name created on the account creation.
Name: Displays the customers First and Last name created on the account creation.
Username: Displays the username created on the account creation.
Email: Displays the email address created on the account creation.
IP Address: Displays the IP Address of the user that placed the order.

Order Totals

Payment: Displays Credit Card, Invoice, or Purchase Order.
Order Subtotal: Displays Order Subtotal.
Order Shipping: Displays the Shipping charged.
Order Tax: Displays tax collected
Order Promotion: Displays the amount discounted on promotion.
Order Total: Shows the total amount collected on order.
Billing & Shipping Address

Company: Displays the company if entered.
Full Name: Displays the customers First and Last name entered.
Email: Displays the email entered.
Phone: Displays the Phone entered.
Address 1: Displays Address 1 details.
Address 2: Displays Address 2 details.
Address 3: Displays Address 3 details.
Address 4: Displays Address 4 details.
City: Displays city entered.
State/Province: Displays State/Province entered.
Zip/Postal Code: Displays zip code entered.
County: Displays country entered.

Shipping Status

Shipping Method: Displays UPS, FedEx, USPS, or Fixed rates.
Shipping Status: Displays Shipped or Not Shipped.
Order Items

Image: Product Thumbnail
Due Date: Displays the due date of the order item.
Status: Displays the current status set for order items.
Vendor: Optional flag for outsourced print vendor.
Product Number: Auto-generated number for unique product ID.
Description: Displays pricing details like Name, Category, Dimensions, Size, and custom calculator values selected when ordered. Also displays print-ready merge status.
Quantity: Displays quantity ordered.
Price: Displays the purchase price.
Action

Download Product: Download Product Items as ZIP Folder
Download Assets: Download original uploaded as ZIP Folder.
Download Low-res Proof: Download PDF Proof file.
Remerge Product: Force new PDF file generation.
Edit Product: Open product details in PrintNow.
Replace Thumbnail: Replace product Thumbnail.
Job Ticket: Print Job Ticket with no pricing details.
Order History

Comments: Comments entered here will show in Order History.
Tracking Number: Used to manually update the shipping tracking number.
User Initials: Initials entered here will show in Order History.
Send customer notification: Will email customer status update.
Send vendor notification: Will send vendor assigned to order email notification.
Order History Information: Saves saved changes to Order History.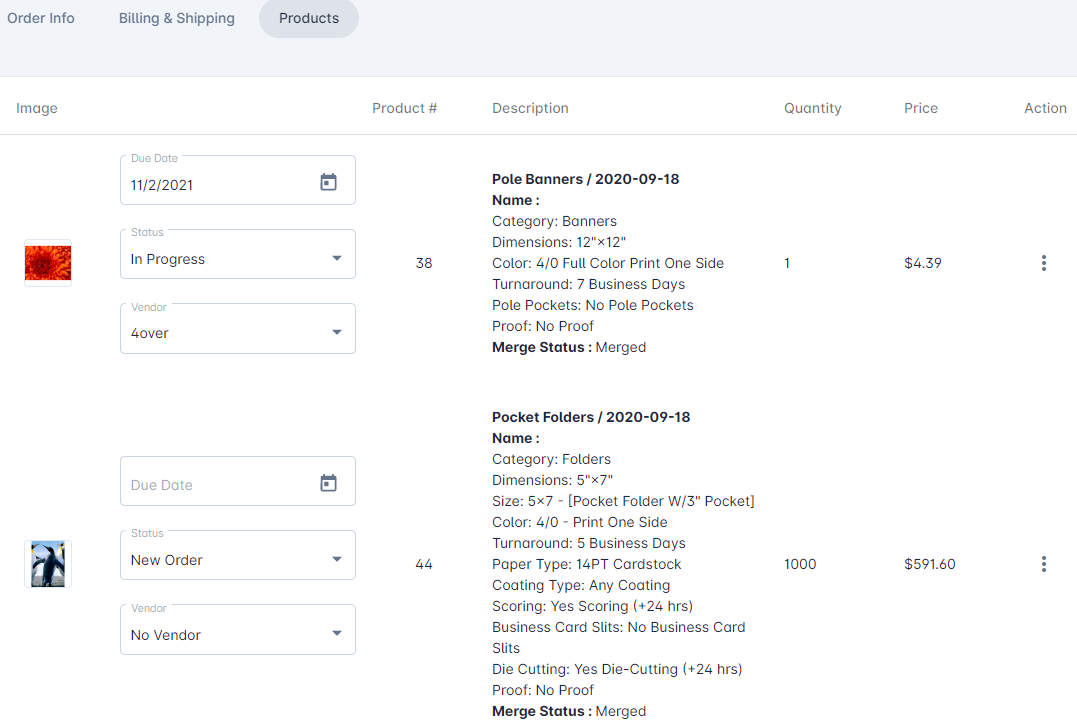 Download Orders
From your PrintNow admin, go to All Orders.
Click Action Icon and click Download to download ZIP Archive.
You can also download Order Items by clicking View/Edit, navigating to the products tab, click Actions Icon and click Download Product.
Use FTP accounts for Order Downloads
The fastest way to download orders and post changes to your site themes is using a FTP service. You can set-up FTP accounts by going to Settings/Domain Tools/ FTP Accounts.