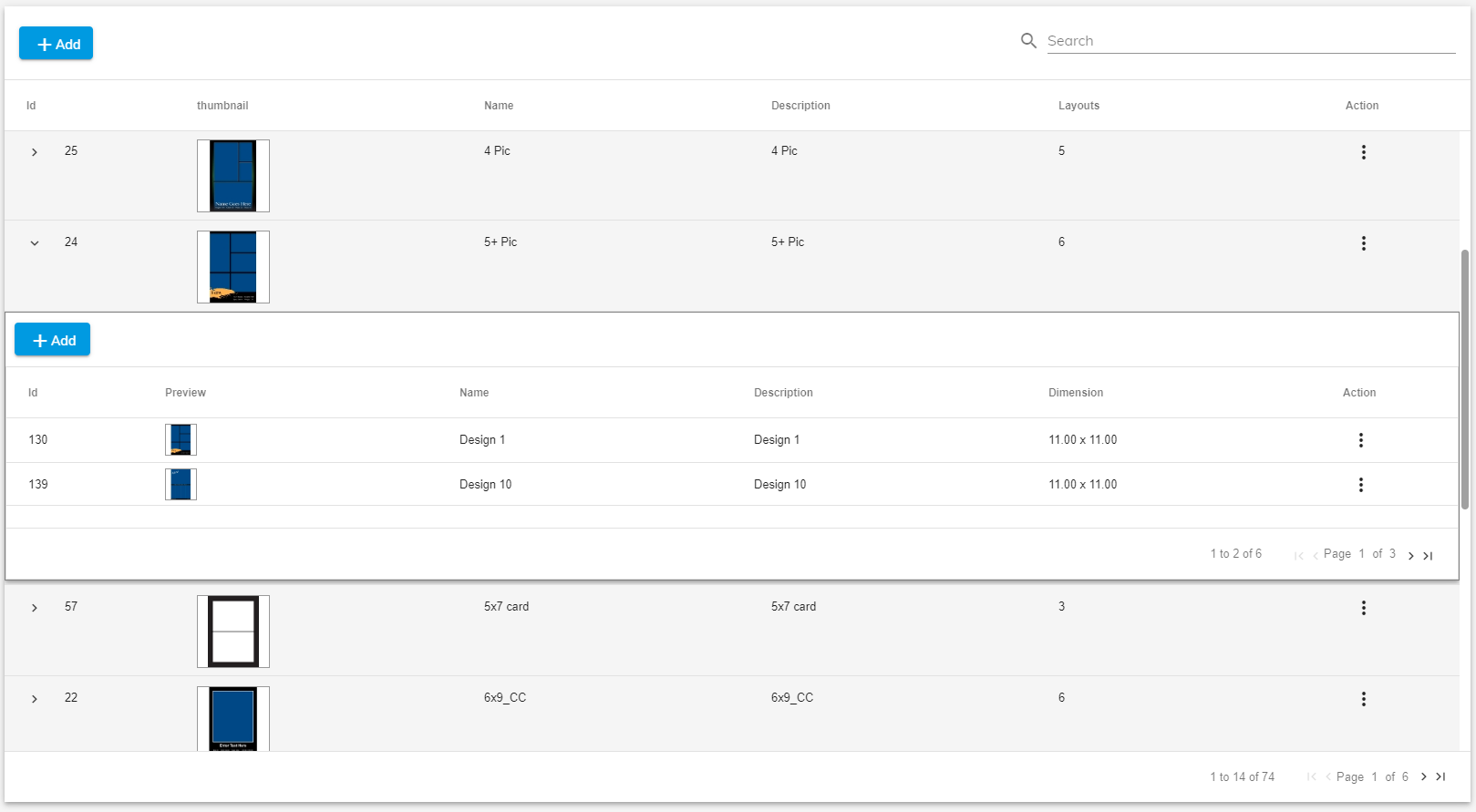 The Layouts feature in PrintNow can be configured to allow the replacement of your product template with a layout template. You can configure it on a page by page basis and you can configure replace order values to retain data in a text or image placeholder on the replacement.
Add Layouts
From your Unified admin, go to Print Editor>Layouts.
To add a new layout group click the +Add Layout button, enter name, description, save.
To add layout items to an existing group first click the ">" arrow on the far left of the group to expose sub-items like the screenshot above.


Now click the +Add button within the subgrid.
Select an IDML file only. It can contain multiple pages that will be added as individual layouts or it can contain new pages to add to existing layout items.
Click upload and you will see your layout items listed.
Click Action icon and edit to upload a thumbnail that will be exposed in Print Editor or delete to remove items.
Edit Layout templates
To load your uploaded templates click Action/Edit in the Print Editor at the group level.
Make desired edits and save your changes.
Optionally set the "Replace Order" value on any text or image placeholder. A value of "0" should be set on both your product template and your layout items when you what to replace the entire layout. A value of "1", "2", etc should be set on both your product template and your layout items when you want the retain image and text items on a layout swap.
Assign Layouts to the product template
To assign layouts to the product template go to Print Editor>Products.
Select the desired product template, click the action icon, edit, and go to the Print Editor tab as #2 screenshot shows.
Select the Layouts dropdown under Template Assets and toggle on desired layout groups.
Click Save to save your changes.
Preview changes to check the product template to confirm layouts works as you expect.