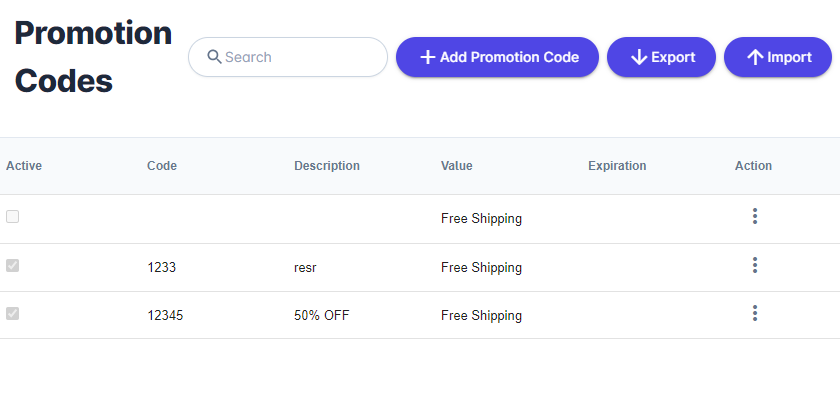 You can offer your customers a fixed value, percentage, or shipping discount on product categories in your Print Store. You can specify usage limits, minimum subtotals, valid end date, or min and max quantity that applies.
From your Unified admin, go to Print Store>Settings>Promotion Codes.
To add a new promotion code click +Add Promotion Code button. See Options below to create your promotion code and click Save to Save.
To export promotion codes to excel click Export Promotion button.
To import promotion codes from excel click the Import Promotion button.
Promotion Info:
Code

The code name to refer to and to enter into Print Store.

Description

The description for you to give to remind you (the admin) what it does.

Active

To make the code active or not.
Promotion Details:
Discount

Set Monetary Value or Percentage based pricing. Or create a Free shipping only code

Category

Code will apply if at least one product from a matching category is added to cart.

Shipping

Apply free shipping along with a discount selection.

Restrict to category

If you have multiple items in the cart discount will only apply to category selection above and not entire order.
Requirements/Expiration:
Usage Limit

The number of times that code can be used for each unique customers. Leave empty for no restriction.

Min. SubTotals

Only apply promotion if min SubTotal is met.

End Date

When will the promotion expire.

Min Quantity

Only apply promotion if min Quantity is met.

Max Quantity

Only apply promotion if max Quantity is met.